64-bit Windows: Installing GSAS-II with a single download
A single download installer can be used to install the latest version of GSAS-II. Click here to see this page without screen images?.
Download this .exe file (~400 Mb):
These links offer an older distributions that has worked for many people, if you have trouble with the previous:
Install Python
Run the downloaded file (gsas2full-*.exe).
Note that the installer suggests closing all applications. It is wise to save work in other applications, but closing them seems a bit excessive. You will need to pass through several windows, selecting options as you go.
The License Agreement window shows you the article we ask you to cite, as well as the use terms for Python and packages. You must agree to continue.
We have only tested with install for "Just Me"
You can install anywhere you wish, but problems have been reported when the directory name includes spaces. You should note the directory you use here in case you have problems (see below). This must be a new directory.
Unselect the two Advanced Installation Options (unless you want to use this Python for other tasks).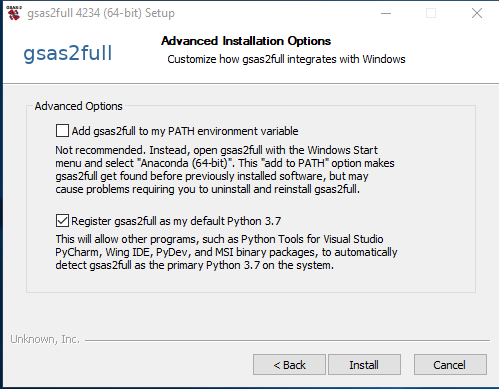 The Python installation will then begin. With the gsas2full*.exe installer, this will include a fairly recent version of GSAS-II.
The last step will be to download the latest version of GSAS-II.
A "DOS' (cmd.exe) window will open, some tests are run and a desktop shortcut will be created to start GSAS-II. That shortcut can be copied or moved to other locations. Double-clicking on it will start GSAS-II.
The last step will be to download the latest version of GSAS-II. You are at that point asked to enter a proxy address. Most people will leave that blank and hit return.
Then click on "Next" and "Finish". to complete the installation.
Problems/comments
If the process completes properly, you will see a GSAS-II desktop shortcut; double-clicking on it will then start GSAS-II, opening two windows. If the process does not complete, see here
Note: A spurious error message saying "Failed to run post install script" will be displayed with older installers. Press "Ignore" as this does not actually represent a problem.
Feedback on installation instructions is welcomed. E-mail Brian dot Toby at ANL dot gov.
Attachments
(18)
Download all attachments as: .zip